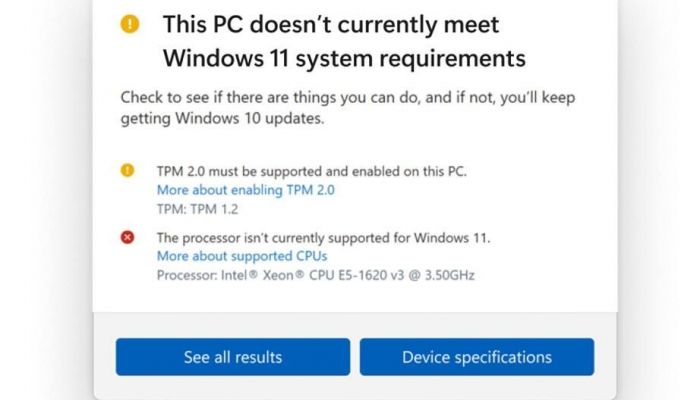 Microsoft released Windows 11 in late 2021, shifting development attention from Windows 10 to Windows 11. Customers with Windows 10 devices can update to Windows 11 for free, but not all Windows 10 devices can be upgraded because Microsoft revised the requirements for the new operating system.
Most Windows 10 computers that do not meet the minimum system requirements will continue to use that version of Windows, but what happens when support for Windows 10 ends in 2025? Windows 10 Home and Pro will be phased out on October 14, 2025, according to Microsoft (basically, all consumer versions of Windows 10). Some customers will almost surely replace their gadgets with new ones that have Windows 11 or are at least compatible with the new operating system.
Millions of devices will still be in operation by 2025, and these will be unable to be formally upgraded to Windows 11, as Microsoft will not simply adjust the technical requirements of the new operating system. Some customers may be able to update to Windows 11 despite the restrictions.
The primary issue that Windows 10 users will face in October 2025 is that Microsoft will no longer produce security patches for the operating system. Windows 10 devices will continue to function normally, however, there will be security flaws that Microsoft will not address after the final Patch Day on October 14, 2025. Other firms, including 0Patch, may step in and offer some Windows 10 security updates, although the company will not deliver patches for all issues, and some may not be free.
Continuing to run Windows 10 beyond October 2025 may still be a viable option, for example, if the PC is not connected to the Internet or if the security setup prevents most attackers from causing harm.
Most Windows 10 customers who have devices that are incompatible with Windows 11 have two options if they want to remain using their device:
Upgrade to Windows 11 while skipping the system requirements check.
Change to Linux.
Upgrade to Windows 11 if your PC isn't compatible

Both approaches are not optimal from the standpoint of a user who prefers to have as few interruptions as possible. The unsupported upgrade to Windows 11 restores most settings and installed apps to the Windows 11 system. Most programs continue to function normally, and no data is lost.
The primary issue with this strategy is that Microsoft does not officially support it. While Microsoft has provided upgrade instructions for incompatible devices, the company advises customers that their devices "may malfunction" and "will no longer be guaranteed to receive updates, including but not limited to security patches."
Damages are not covered under the manufacturer's warranty, and PCs will no longer be maintained in any way, according to the official disclaimer.
This computer does not satisfy the minimum system requirements for running Windows 11 – these requirements help to provide a more dependable and high-quality experience. Installing Windows 11 on this PC is not advised as it may cause compatibility issues. If you install Windows 11, your computer will no longer be supported and will no longer be eligible for updates. Damages to your PC caused by incompatibility are not covered by the manufacturer's warranty.
Windows Update works perfectly on incompatible Windows 11 machines, for now, however, this may not be the case in the future. Installing feature upgrades, in particular, may become difficult, as users may need to breach the limitations again before they can be deployed.
Consider switching to Linux
The second alternative available to people is to switch to Linux. The shift necessitates extra research and works on the user's part: a Linux distribution must be chosen for that, which may necessitate some testing before making the switch. The majority of Linux distributions can be operated as Live systems, which do not alter data on the PC's hard drives.
The following are the primary issues that users will encounter:
Files must be manually transferred to the Linux system. Before making any changes to a system, it is a good practice to back up vital data. It is recommended that you use an external hard disk or an internal hard drive.
Many apps will not run in Linux; this is dependent on the programs used on Windows, and programs such as WINE may help, but some programs may not be able to run at all.
Unless the programs enable synchronizing, there is no data movement between them.
Handling, administration, and management are all different and must be learned. Many current Linux distributions require minimal to no command-line experience. While it is recommended for experienced users, most regular users won't have to bother about it if they choose a beginner-friendly distribution.
Now it's your turn: do you have any Windows 10 devices that won't work with Windows 11? What are your plans?
Last Updated on June 20, 2022 by Alex Burma