Keyword Research | Keyword Analysis | Keyword Tools in 2022
Keyword Research For SEO (2022), The main aim goal of this article is to make keyword research simple and handy. You can find various articles that dive deep into the use of Google tools for keyword research, and advanced keyword research procedures — this is not one of them.
Six central pillars of keyword research, that includes:
1) Create a list of ideas to get you started.
2) Recognize that you require the assistance of a keyword research instrument.
3) Use keyword phrases recommended by an analytic tool to refine your list of potential keywords.
4) Examine the keyword phrase's relevancy.
5) Look for a search volume that will help you determine consumer interest.
6) Examine the competition environment and the phrase "vacuum."
Big picture, the idea is to contain an extremely targeted keyword phrases having a high search volume and low competition mix. In the simplest terms, this means — in a perfect world — your keyword phrases defines your content precisely, a lot of people are searching for the exact phrase, and there aren't various influential competitors who optimizes for that particular phrase.
Keyword Research
1. Working Smarter, Not Harder
Keyword research might be easy or complex, however it have to be carried out with fun. For the sake of the Blueprint, let us work on the keyword research the easy way.
The major mistakes made by people with keyword research include:
Selection of keywords that are too broad
Keywords with too much competition
Keywords with no adequate traffic
Keywords that do not adapt
Trying to rank for one keyword at a time
The major mistake people make is trying to rank for a single keyword at a time. This is the inflexible way. It's much easier, and much more profitable, to rank for 100s or even 1,000s of long tail keywords with the same piece of content.
Rather than ranking for a single keyword, let us target our project about a keyword theme.
2. Find Out Keyword Theme
With the proper use of keyword themes helps to solve lots of problems. Rather than ranking for one Holy Grail keyword, a better aim to rank a lots of keywords focusing around a particular idea. Done right, the consequences are incredible.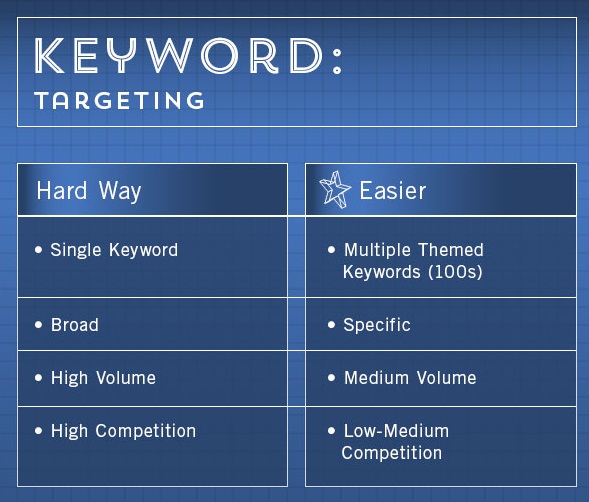 I accept you know have idea regarding your business to know the type of audiences you're seeking and whether you're looking for traffic, conversions, or both. Nevertheless, one simple rule holds true: the more specific you define your theme, the easier it is to rank.
This is basic stuff, but it bears repeating. If your topic is the trekking, you'll find it hard to rank for "trekking in Nepal," but slightly easier to rank for "trekking in Nepal 2015" – and easier yet to rank for "Best trekking in Nepal 2015."
Don't focus on particular words yet – all you need to recognize is your comprehensive topic. The next step is to discover the correct keyword qualifiers.
3. Get Specific with Qualifiers
Qualifiers are words that enhance specificity to keywords and describe intent. They take many different forms.
Time/Date: 2015, Jan, Morning
Price/Quality: Cheap, Best, Most Popular
Intent: Buy, Shop, Find
Location: Kathmandu, Outdoors, Online
The idea is to discover as many qualifiers as possible that fit your audience.
4. Finding in the Google Rough
At this point you have a few dozen, or a few hundred keywords to pull into Google Adwords Keyword Planner.
Pro Tip #1: While it's possible to run over a hundred keyword phrases at once in Google's Keyword Planner, you get more variety if you limit your searches to 5-10 at a time.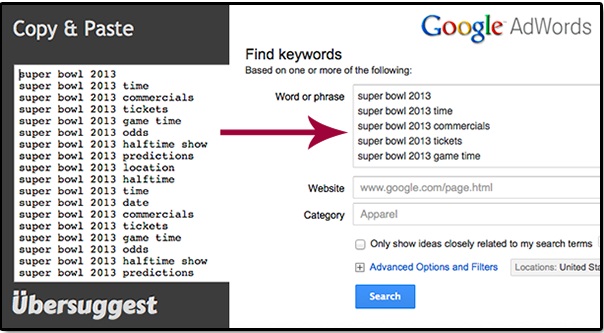 Using "Exact" search types, we're looking for 10-15 carefully related keyword phrases with decent search volume, but not too much competition.
Pro Tip #2: Be careful trusting the "Competition" column in Google Adwords Keyword Planner. This refers to bids on paid search terms, not organic search.
1.   Get Strategic with the Competition
Now that we've a basic keyword set, you wish to search out if you'll really rank for your phrases. You have to figure out two basic ways of ranking the competition:
Automated tools like the Keyword Difficulty Tool
Eyeballing the SERPs
If you have a SEOmoz PRO membership (or even a free trial) the Keyword Difficulty Tool estimates – on a 100 point scale – a trouble score for each individual keyword phrase you enter.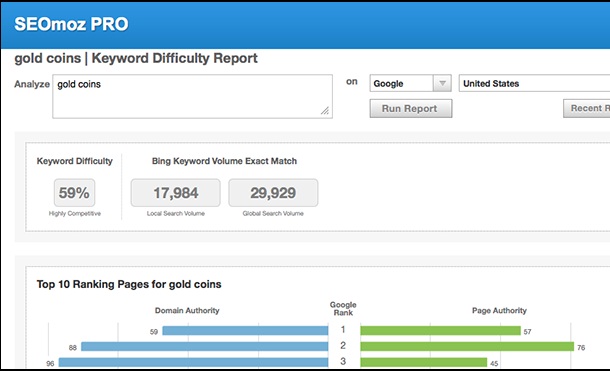 Keyword phrases in the 60-70+ range are characteristically competitive, while keywords in the 30-40 range might be measured low to reasonably challenging.
For a better idea of your own strengths, take the most competitive keyword you presently rank #1 or #2 for, and run it through the tool.
Even with no computerized tools, the finest technique to size up the competition is to eyeball the SERPs. Run a search query (non-personalized) for your keywords and inquire yourself the following questions:
Are the first few results optimized for the keyword?
Is the keyword in the title tag? In the URL? On the page?
What's the Page and/or Domain Authority of the URL?
Are the first few results authorities on the keyword subject?
What's the inbound anchor text?
Can you deliver a higher quality resource for this keyword?
You don' not essentially have to rank #1 for any of your selected words to make traffic, but you have to be contented cracking the top five.
With keyword themes, the magic frequently happens from keywords you never even thought about.
Case Study: Google Algo Update
When SEOmoz launched the Google Algorithm Change History (run by Dr. Pete) we used a similar process for keyword research to explore the theme "Google Algorithm" and more specifically, "Google Algorithm Change."
According to Google's search tool, we could expect a no more than a couple thousand visits a month– best case – for these exact terms. Fortunately, because the project was well received and because we optimized around a broad keyword theme of "Google Algorithm," the Algo Update receives lots of traffic outside our pre-defined keywords.
This is where the long tail magic happens: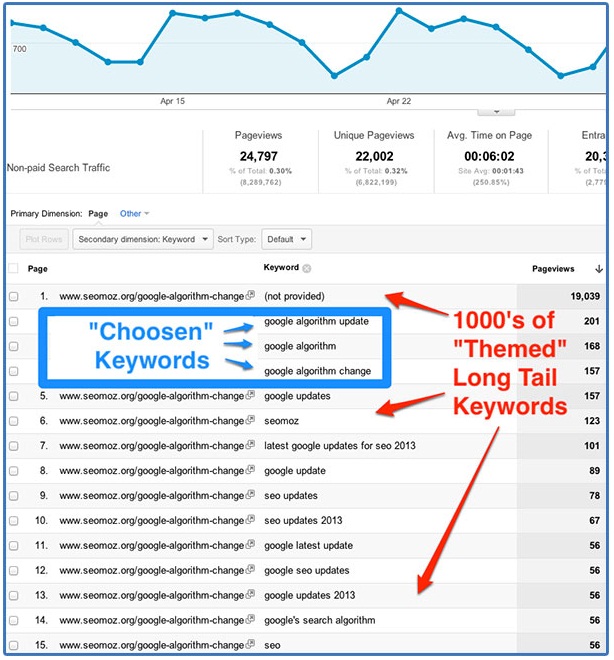 How can you improve your chances of ranking for more long tail keywords? Let's talk about content, architecture, on-page optimization and link building.
People also ask in Keyword Research(2022)
Which keyword research tool is the most effective?
What instrument is employed in the process of keyword research?
Is KWFinder still available for free?
What are SEO keyword research tools, and how do they work?
What are free keyword research tools, and how do they work?
Using Keyword Research Tools
Using wildcards
Here's a search for "Trekking in Nepal" which shows a number of additional keywords to potentially target:

Underscore as a wildcard at the start of the query:

Space curser as a wildcard at the end of the query:

Wildcard between the two words:

Wildcard using *:

Wildcard using curser before:

Using keywordtool.io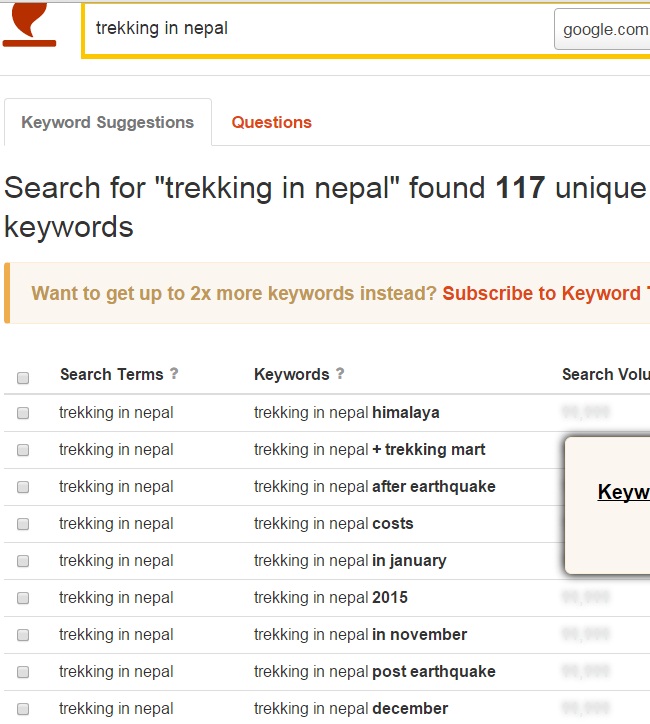 Using ubersuggest.org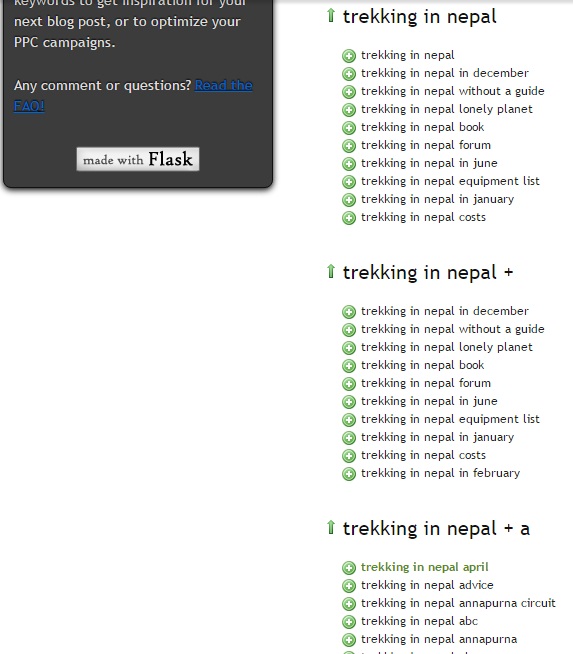 Using wordtracker.com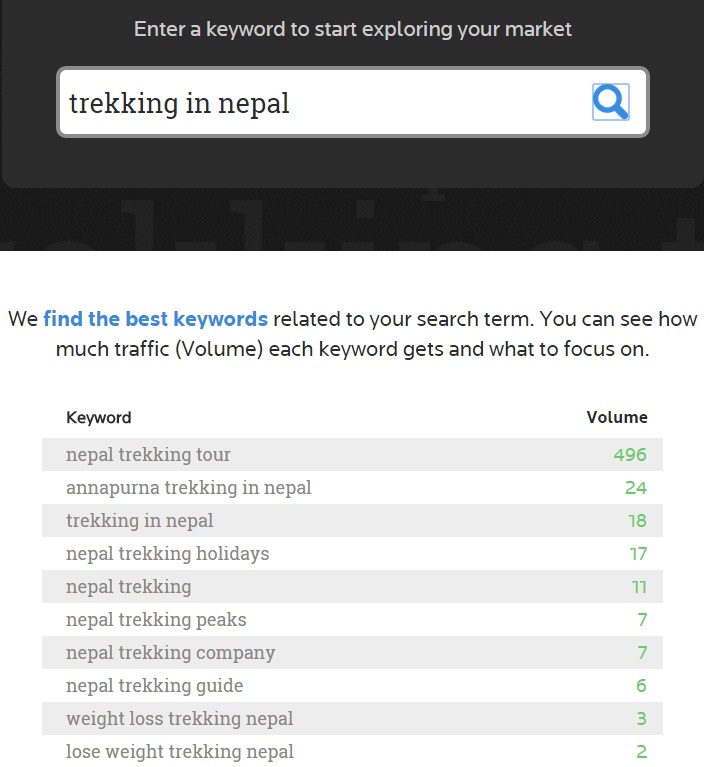 Using seobook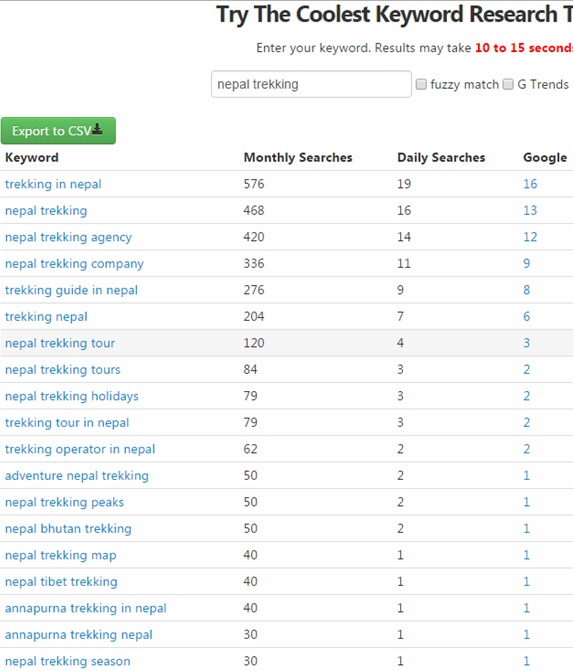 Also Read: keyword research